The PULP WASHING MACHINES BAS have high levels of quality and reliability, as well as competitive prices that allow a quick return on investment.
TECHNICAL CHARACTERISTICS
Washers with internal pipe manifolds or side plate manifold for greater hydraulic drainage capacity.
Drum surface with anti-return angles to increase consistency.
Different materials according to the application including 254 SMO, Stainless 304L, 316L and 317L as well as Duplex steels.
High consistency of discharge and efficiency.
Side valve with independent distribution plate simplifies its calibration and maintenance.
Removable leg trunnions.
Low Pressure Lift System (Doctors).
Bearings in wear-resistant materials of very high durability that do not need lubrication.
Oscillating mesh cleaning system.
Special design of external fiber glass bell for the collection of vapors that facilitates the inspection and maintenance work.
WASHING MACHINE PARTS
BAS INGENIERÍA SA Is able to supply spare parts for washing machines of any brand with existing designs tailored to what is translated into low down times to make changes and modifications: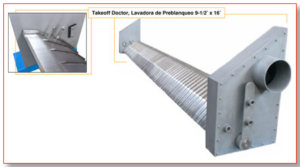 Drums designed to fit the existing infrastructure.
Lift systems (Doctors).
Trunnions cap screwed for different designs of washing machines.
Punts and repulpers
Discharge valves and elbows.
Showers of various types and different materials.